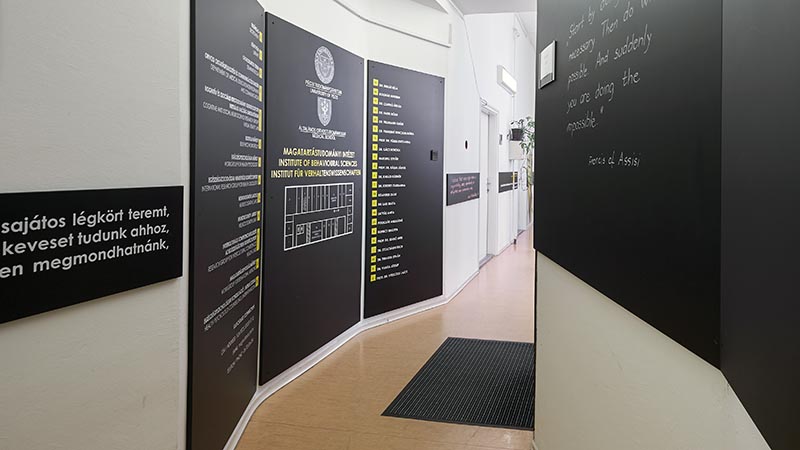 The motto of the UP Medical School Department of Behavioural Sciences expresses well one of the characteristics of education, namely that the quantity and quality of work, time and resources spent in the present determine the quality of the future.
Education development at the UPMS has always been at the forefront - which is almost obvious in the case of an institution dealing with higher education. Everyone has contributed to it to the best of their ability so far as well, be it teachers, students or administrative staff helping the education. Innovative ideas and creative solutions have been introduced and applied in various organizational units of the institution. Recently, due to the known circumstances, questions related to the development of education have been raised with urgent need and not only in connection with digital education. We discussed these questions and the tasks facing the Department of Behavioural Sciences with the head of the department, dr. Árpád Csathó, associate professor and with the former head of the department, dr. Zsuzsanna Füzesi, full professor who currently leads the Division of Medical Education Development and Communication.
Written by Gábor Szabó
What do we need to know about the Department of Behavioural Sciences when it comes to education?
Á.Cs.: The Department of Behavioural Sciences teaches knowledge essential to the practice of medicine such as medical ethics, medical anthropology, medical sociology, medical psychology and neuropsychology. Despite disciplinary education, this is not a fragmented body of knowledge. We are trying to synthesize the knowledge provided by our subjects in order to provide a multi-faceted but unified and practically usable model of healthy and sick human behaviour and the social, cultural, and human characteristics of healing. In addition, the educational objective of the Department includes the development of skills defined in the programme completion and exit requirements. These include communication skills, sympathy, stress management, conflict prevention, aggression management and so on.
Zs.F.: However, incorporating all this into the socialization process of medical students cannot be the task of one department. The integration of the knowledge and skills acquired at our department into the personalities and medical role sets of the students takes place or is put aside at the clinics. The clinician as a role model has a major impact on students. Experiences in the clinical environment underline or reject sympathetic medicine, the right doctor-patient relationship or "allow" flexible and critical thinking, point out the need to improve quick decision-making but even to maintain the delicate work-life balance, which can prevent e.g. burnout.
The systematic and scientifically demanding development of educational frameworks and methods may be the next step, the development of which has started partly in connection with the Department of Behavioural Sciences. What was the basic idea from which these theories came from?
Zs.F.: The School's need and demand for changing education has not recently been formulated. Let's face it: in most parts of the world education is based on an astonishingly conservative structure and mindset. Even though the internet has exploded into our world for nearly three decades now, the emphasis is still on information transfer almost everywhere from primary to higher education. This is understandable because, with the best of intentions, almost every teacher from the kindergarten to the university thinks that it is his or her responsibility to pass on and share the increased knowledge with children and students. However, even the smartest, most diligent teacher cannot keep up with the information explosion and the increase in the amount of knowledge and students are not able to obtain them either. And why should they? It is long overdue to ask questions differently and find answers to them.
That is why the Division of Medical Education Development and Communication was established?
Zs.F.: Partly yes. The 21st century is also called the age of learning agility. This means more than lifelong learning where we have been constantly expanding our knowledge along a well-defined path. In order to look at learning, the acquisition of knowledge and its transfer in a completely different way, first we must shape the organisational culture as well. Culture - even in such a knowledge-based organisation as ours - is very difficult to change but nothing essential will happen without it. A management guru (Peter Drucker) says, "Culture eats strategy for breakfast". If you like, this is the basis for the other changes at the School as well. During the development of the organizational culture, we have started processes with the help of our trainings of which we are also students and participants. Common experiences and thinking help individual and organizational self-knowledge, they help formulate new goals, methods and many questions. Many colleagues are familiar with the "7 Habits of Highly Effective People" training, which is a very lovable program. It gives us a lifelike, feasible, effective tool in terms of both work and private life - if we practice it. Our training called "The 4 Essential Roles of Leadership" is much harder, highlighting the complex tasks of leaders. If you like, we build on these trainings and the practice based on them to change the learning culture.
The term communication is used in the name of the division as well.
Zs.F.: The importance of communication in our lives does not need to be explained. Moreover, the impact of proper communication in the doctor-patient relationship or even within the health team on the effectiveness of the work of healthcare professionals does not need to be explained either. However, this is not an innate skill; it can and must be developed. In 2017, dean Miseta set this as one of the most important tasks of the division, namely that not only "must" students be taught practical communication skills but the communication competencies of those working in healthcare need to be developed as well.
What have you achieved so far?
F.Zs .: On the one hand, we teach and also continuously practice the so-called active listening, the habit of empathic listening in the frame of the "7 habits" training. This is a very cool part of the trainings with great "aha" experiences but neither in our individual lives nor in organizational development can we succeed without this skill.
On the other hand, building on a previous communication pilot program we developed a course for students with the voluntary participation of colleagues from three departments that provides the practical education of communication, from announcing bad news to intercultural competence, giving our students an opportunity to gain real personal experience as well. This cooperation, initiated by the Department of Behavioural Sciences with such excellent partners as the staff of the Department of Primary Health Care and the Department of Languages for Biomedical Purposes and Communication, is called a synergy project. It was indeed a synergy because we spent an incredibly exciting, energizing year together professionally during the development of the course by our behavioural researchers, physicians and linguists, passing on our knowledge to each other, shaping our own approach. We hold the practical classes together ever since. What is it, if not the desired organizational and learning culture based on diversity and cooperation?
Third, we held a communication training for the entire SBO (Department of Emergency Medicine) team in small groups at the request of the Clinical Center, which was a serious challenge for us. Let's face it, if someone told me that after two or three decades of professional work in healthcare I should participate in a training to "become smarter," I might be very resistant. I think most participants understood how much we respect their work, their knowledge but the development of communication skills and the ability to manage conflicts are to facilitate their work and we hope they can also benefit from it. As usual, many things depended on the leader who showed that this is an important task by setting an example.
What is next? What is learning culture?
Zs.F.: The leadership of the School is committed to a major strategy, the first significant pillar of which is the learning culture concept, it is an exciting challenge to participate in its development and implementation. In an excellent organization like the UPMS, learning must be made a strategic goal for all participants. Of course, we have culture now as well because the way we "live our daily lives, do our job" is culture itself. This does not have to be "replaced", it cannot be done on command but it can be shaped and developed at a pace that the organization is capable of. Of course, this requires a vision, goals, the will of the leadership and firm decisions for the School but at least as much the commitment, responsibility and courage of teachers and students as well.
Learning culture is primarily a paradigm shift in the way we would like to further develop our education. From the teachers' point of view, it means briefly that in addition to "what", "how" also becomes necessary. And if students become partners, they have to take much more responsibility for their own learning and development. This can only be achieved by increasing internal motivation, certainly not by external pressure.
Á.CS.: There are several tools for this. To summarize it briefly, most pedagogical methodologies strengthening motivation emphasize active, more self-directed processing of the learning materials. New educational approaches aim to provide more nuanced, more personal acquisition of knowledge. This goal can be achieved by creating learning situations that require constructive debate, cooperation skills and group tasks. If we just highlight the role of the debate, then I think its effect on motivation is known to everyone because a good debate is usually not dry but emotionally upsetting, so the topic of the debate becomes more personal and provides us with a stronger, lasting memory. Moreover, by participating in such a learning process, the participant becomes competent in the cooperative solution of professional problems and becomes more effective in knowledge transfer.
The principle remains that there is usually a strong correlation between motivation and performance, so establishing personal motivation is undeniably very important. Strengthening personal commitment to learning is, of course, not easy given the many different attitudes, backgrounds and interests students have. It is logical to assume that this rich motivational background can be exploited to the fullest if the range of our teaching methodology is sufficiently diverse. So, there is no dichotomous contrast of traditional and modern education. The often-criticized method of frontal education can also be effective and inspiring. What we rather emphasize is pedagogical diversity. It is not my idea but I find it an interesting statement that uniform education results in uniform workforce. The latter is quite certainly not our goal; the post-university professional environment requires a much more varied and diverse involvement than this, in which only people with versatile ability profiles can stand their ground.
Are there any plans to involve students in the development of the teaching methodology, either directly or through needs assessments and consultations related to them?
Á.Cs.: The answer is clearly yes. We are currently working on a teacher-student cooperation concept that aims to make the constructive dialogue stronger between the two partners. Currently, evaluative-type feedback is dominant in connection with the quality of education and learning. For example, in terms of student feedback, anonymous feedback questionnaires based on closed-ended questions are rather the basis for feedback. Complementing this, we are now trying to bring together all the institutional initiatives that operate through more open communication channels and are based on dialogue. Not that closely but one of our new initiatives can also be included here: starting this year, our students who have excelled in all five of our compulsory subjects will receive an award. This is primarily a positive feedback for their great learning activity but in the long term it is likely to result in a closer, positive attitude relationship between the department and the students. And this is a prerequisite for an open and honest environment that can handle even heated debates.
What can be expected in connection with clinical-related practical education, how much can this field be involved in education development (either at the personal or institutional level)?
Á.Cs.: This question is one of our most important goals. We have performed resource concentration for educational and scientific integration with clinical fields. To be more accurate, our Division of Clinical Behavioural Sciences led by dr. Kázmér Karádi has been established in recent weeks. The antecedent of this is that many of the staff of the Department of Behavioural Sciences have always been involved in clinically oriented research and education projects. Several of our colleagues carry out research and development activities related to the possibilities of diagnostics, rehabilitation and behavioural interventions. Their experiences in these areas are one of the most important parts of our educational profile. What has perhaps been less present so far is an integrative approach that reviews several clinical behavioural science projects and initiatives and summarizes the experiences. The main goal of the new division is therefore to bring the clinical teaching and research activities of the department under a more uniform management and professional umbrella. Part of the division's concept, of course, is to make the transfer between behavioural theories and clinical practice more continuous, easier, and more credible.
At what stage is the department's education development process now? What are the next plans?
Á.Cs.: The main stages of our education development include the development of an integrative type of educational model, the definition of the most important behavioural science skills and the development of the methodological channels that mediate them, i.e. the broadening of our teaching methodological and technological profile. By teaching methodological development we mean all the pedagogical elements that we have already referred to above in connection with the learning concept. In addition, the technical background of our education is also strengthening. For example, in the frame of the Modern Cities Program a state-of-the-art audio-visual communication laboratory has been developed, which will create excellent technical conditions for practicing doctor-patient communication situations. We have not fully "inhabited" the lab yet because the epidemic has unfortunately intervened but hopefully our teachers and students will take possession of it next year. Moreover, when it comes to technological innovation, I can also mention an example of robotics development. Together with the Applied Data Science and Artificial Intelligence Group of the University of Pécs (led by Dr. Ádám Feldmann), a chatbot is being developed, the essence of which is that short learning material contents can be retrieved with the help of a chatbot application. It can be an excellent technological solution that complements education, especially in the transfer of concepts, definitions and short professional materials.
The conversation will soon be continued.