The most modern campus in the country invites you - the new theoretical building of the Medical School in Pécs
A huge renewal has begun at the University of Pécs Medical School in the spirit of competitiveness, improvement of the quality of education, innovation, and the creation of an inspiring environment.
The flagship of this project is
the new theoretical building of 15,000 square metres, which is about to be handed over, utilising smart technologies.
The building adapts to 21st century student expectations, such as, in addition to personal presence, ICT-supported education, a state-of-the-art "SKILL" environment that prepares students for practical training, problem-oriented training that introduces research challenges, or even quality spaces of community life beyond the educational environment.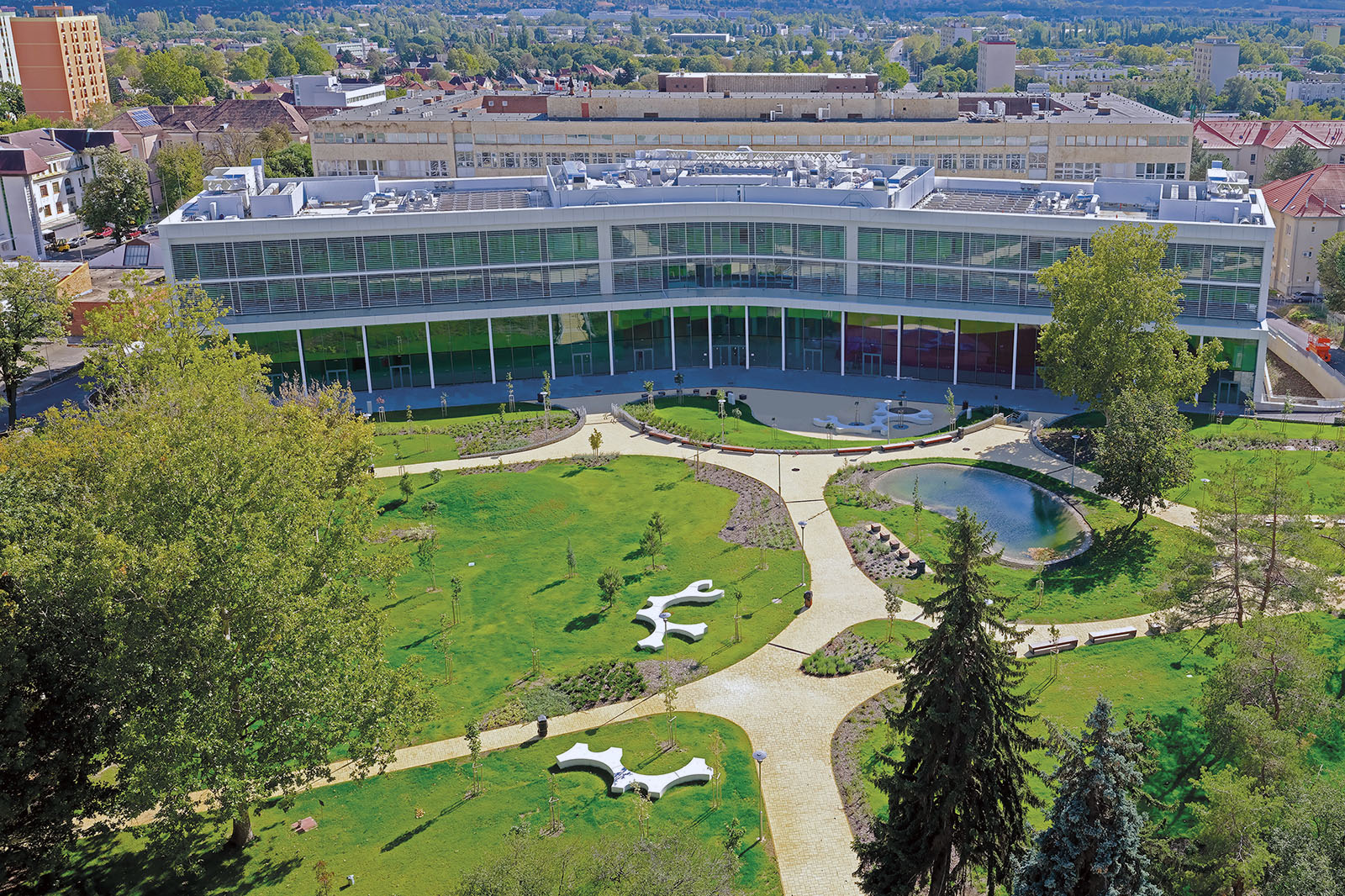 In the new building, students will be able to master medicine in two lecture halls for 334 people and two lecture halls for 92 people, and there are also 34 seminar rooms, among which specialized student laboratories have also been set up.
Student traffic is concentrated on the ground floor and first floor where the lecture halls, seminar rooms and community spaces with associated additional rooms are located. The second and third floors are shared by the Institute of Physiology, the Institute for Translational Medicine, the Department of Pharmacology and Pharmacotherapy, and the Department of Public Health Medicine.
The "CORE facility" has been placed in the middle of the building: laboratories that provide a unified infrastructure for complex research work, workflows in different disciplines. Each area has a different safety classification and is protected by an access control system.
Along with the new building, a community park will be built as well, which is planned to be accessible not only to university citizens: the full opening of the campus area to city residents is also included in the plans.
The new theoretical building is the first major milestone in the infrastructural renewal of the Medical School, followed by several others. The construction of the new Dental Theoretical Building is in full swing, and the reconstruction of the entire campus will also take place, so that the most modern, innovative, inspiring, impressive environment will welcome students from all over the world.